Real estate and home decor are ever changing – and that's what we love about both! We posted a few new home design trends yesterday on Facebook that Houzz predicts will be huge in 2016. But, here are some more that are too good not to share!
Two-tone kitchen cabinets. Keep upper cabinets white or neutral for a clean, timeless feel, then go crazy with the lower cabinets by playing with various wood tones and deeper colors to take your kitchen in two different style directions.
Outdoor fabric used indoors. Outdoor fabrics are becoming increasingly hard to distinguish from traditional indoor fabrics, and many Houzzers are bringing them inside, where their durability makes them perfect for high-traffic dining room and living room furniture, as shown here.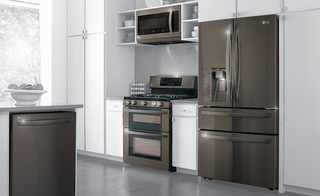 Colored stainless steel appliances.
Black stainless steel is making a buzz on Houzz. In a poll, nearly two-thirds of Houzzers say they would consider the dark alternative to shiny silver metal. (Shown here is LG's new Black Stainless collection.) Not into the darkness? Head to the light with Whirlpool's Sunset Bronze finish.
Extra-large-format tile. Large-format tiles (such as 12 by 24 inches) have been making an appearance in kitchens and bathrooms for some time now, but be on the lookout for extra-large-format ones. Just how extra? Try 31 by 71 inches, like the ceramic Ann Sacks tiles shown here on a fireplace surround project by Pangaea. That's almost 3 by 6 feet!
Deep kitchen drawers.
Houzz data shows that ease of storage is the top kitchen priority during a remodel. And while deep drawers have been creeping up to replace lower kitchen cabinets for a while now, they're only getting better — and more affordable. Dividers and inserts let you organize any shape or size of dish, pan or utensil under the sun, and there are even clever options for deep corner drawers, and drawers under range tops and kitchen sinks.
Niche appliances. Looking for a little added luxury in the kitchen? Steam ovens (shown here) promise to cook food more thoroughly and healthily than microwaves; warming drawers give cooks a little wiggle room to deliver hot meals to family and guests; induction cooktops save space and are safer for homes with young kids; and kimchi refrigerators offer fans of the popular Korean condiment a chance to make their own at home.
Kitchens that embrace openness and raw materials. The inherent simplicity in open shelves and raw materials plays a big part in the barely there kitchen we mentioned earlier. Embrace these, and the rest will follow. Note the two floors!
Sunrooms. A sunroom is a top dream space for many homeowners. Even those who don't have the luxury of having — or adding — one are finding ways to carve out a special sun-drenched corner in their homes.
There you have it folks – the newest home design trends for 2016! It's always helpful (and fun) to see what the decor industry is raving about! You can always take inspiration from these ideas and tailor them to your current home or future house. And as always, if you're ready to take the housing leap, contact us today!